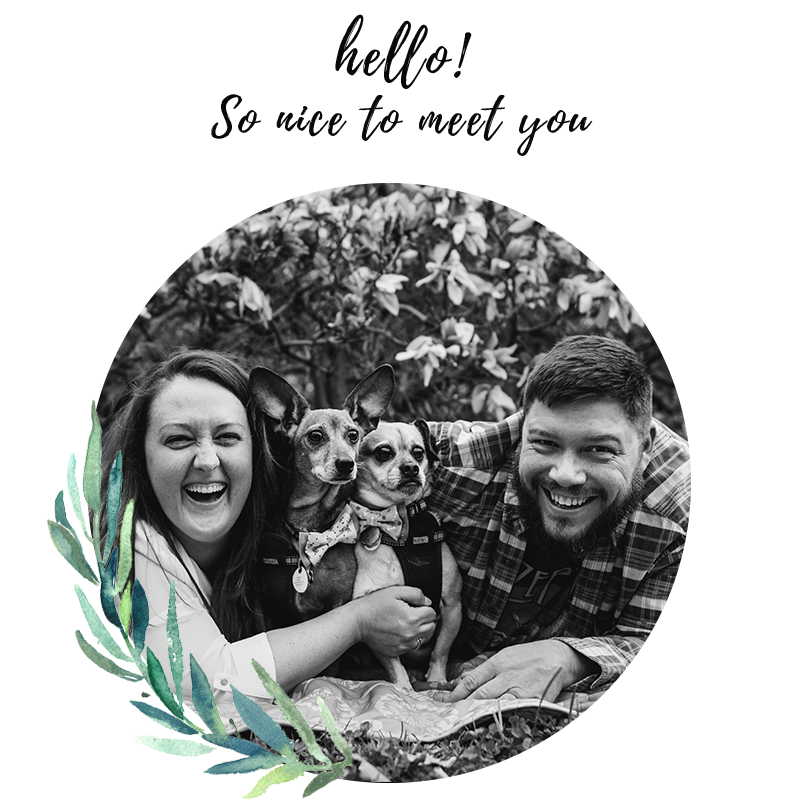 We are Jeremiah and Kari and we would love an opportunity to introduce ourselves to you! We hope that this can give a little glimpse in to who we are, what we love, and our dreams for the future (as much as you can virtually at least!) as you think about adoption for your child. We are so thankful for your time and consideration as you review our profile but please know that we are open books, so please reach out if you have any questions! 
our story
Our story together began when we matched on eHarmony during the fall of 2010! Days after our online connection, we had our first date over Waffle House hash browns and fell for each other instantly. From there, we had a whirlwind romance! We quickly became inseparable and realized that our views on life and morals aligned with one another, our conversations were seamless, and we knew that there was no one else in the world we wanted to share our lives with. It didn't hurt that I (Kari) was drawn to Jeremiah's wit and the twinkle in his eye when he smiled. And I (Jeremiah) was drawn to Kari's passion for life and thought she was really pretty!
We quickly moved in together, added our dog Carson to our family, and by December 2011 we were engaged! In September 2013, we were married by my (Kari's) brother at a bourbon distillery in Frankfort, Kentucky on a perfect fall day. We've been married now for over six years and look forward to what the future holds for us and our family!
our life together
Over the years, we have realized that resilience is our couple superpower as we are stronger together than we are apart. By sharing the best moments together and leaning on the other through difficult times, we feel that we can make it through anything that is thrown at us on this crazy roller-coaster of life. By experiencing some of life's ups and downs, we have continued to build our communication skills and learned how to work better as a team. 
WE ENJOY: cooking together and trying out new recipes with the sometimes odd produce we find locally // playing with our pups // spending time together at home playing board games, watching movies, talking, or just hanging out with family and friends // picking up Starbucks and going to the local farmer's market // being creative and working on different house projects together.
hi, i'm kari!
FRIENDS SAY I AM: Creative, driven, sincere, honest, and present
INSPIRED BY: How each day brings a fresh beginning!
HOBBIES/PASSIONS: finding new ways for us to be more environmentally conscious // Chai Tea Lattes // creating and exploring different types of art and crafts // baking homemade cookies, cinnamon rolls, muffins, breads // spending time with family (including our dogs whenever we can) and friends
I grew up in Ohio with my parents and younger brother. So many of my fondest childhood memories revolved around our kitchen table -- from carving pumpkins to working on math problems with my mom to meals together as a family of four. Jeremiah and I now have that same table in our kitchen and look forward to the many memories and traditions we will make as a family around it!
Today, I work as a quality auditor for the local children's hospital. I love what I do as it allows me to utilize my talents to do something that helps keep kids safe while they are in our care. 
I want to be a parent because I truly enjoy being around kids and watching them learn and experience life from a fresh, uninhibited perspective. I cannot wait to watch our child see everything this world has to offer through their eyes, even during those normal everyday moments, and to share with them all that I know.
"One thing that I admire about Kari is her willingness to put her loved ones first. She is always extremely gentle and loving with small children and has the most patience of anyone I have ever seen. Kari is the only woman in this world with whom I could ever imagine building a family and raising children. She is definitely my better half and is going to be an amazing mother!"  -- Jeremiah
hello, my name is jeremiah
FRIENDS SAY I AM: Funny, playful, sarcastic, loyal, and genuine
INSPIRED BY: My wife! She inspires me to be a better person each and every day. 
HOBBIES/PASSIONS: playing guitar // listening to music and dancing while making dinner with Kari // doing home projects // spending time with Kari and our two dogs // searching for rocks/pretty stones along the coast of Lake Michigan (Some people call me "Rock Man" but I prefer "Rock Hunter")
I grew up in a small town just outside of Indianapolis as an only child. I learned to play guitar at a young age and discovered a great love for music. My dad and I used to sit and play song after song for hours on end! Growing up, though we didn't have a lot of money, my parents were always there for me and always supported me through every decision in life that I made.
Today, I work as a customer support specialist for a company that develops software for those who help children and families in need. I love the company I work for due to the mission they stand for and the assistance they provide to the community. Being a part of that has been one of the most rewarding things I have ever done in my entire career.
I have dreamed of being a parent for most of my adult life. I have always had this feeling of longing to have children of my own; watching them grow, teaching them everything I can about being a good person, and helping them to gain the skills they need to lead a happy and productive life.
"Since the first day I met Jeremiah, I have not spent a day without laughter or truly appreciating his positive outlook on life. I absolutely love his ability to lighten the mood with a joke or the way he takes my hand in his and asks me to dance with him in the kitchen while he hums a tune. He is going to make an amazing father simply because he truly wants to listen and help others in any way he can but is also fun and playful and can make a game or song out of anything."  -- Kari
meet our dogs
Carson Boo (Pug-Dachshund Mix) - He is full of love and spunk. His favorite activities include snuggles as a family (what we call puppy piles), playing with his pig Pillow Pet, walks around our neighborhood, and eating apples as treats. 
Jack Jack (Chihuahua-Dachshund Mix) - He is our rescue dog with a heart of gold. His favorite activities include caring for others, receiving all of the belly rubs you can offer, sleeping wrapped up in blankets, and hoarding all of his toys in a pile. 
We cannot imagine our lives without these two loving boys as they bring us happiness and laughter each and every day. When it comes to children, and really any visitors, they both love to play and give kisses and we can't wait to watch them become big brothers to a little human!
our home
We live in a cute little 1950's ranch home in a suburb just northeast of Columbus, Ohio. We have three bedrooms, a great large living space that is perfect for gathering with friends and family (that will also make a great play space!), and an amazing yard with a couple large oak trees. Our home is cozy, warm, and inviting. For us, it feels like a big hug when you walk through the front door and we always have music playing in the background. One of our favorite pastimes is cooking together while classic rock music plays, to which we sometimes laugh, dance, and generally act like fools while we accidentally burn the pancakes! 
Our charming neighborhood is an amazing gem outside of such a large city with full, mature trees and sidewalks. We enjoy walking our two dogs around the neighborhood, which always leads to a short scavenger hunt on their part in search of some unseen critter. We have a plethora of local parks, walking trails, and local restaurants plus we are within walking distance to all levels of school that our child would attend. Additionally, we are within 30 minutes of the zoo, science museum, and conservatory that we look forward to exploring with our future child(ren)!
our families
KARI'S FAMILY: My immediate family (parents, brother, and soon to be sister in law!) are all within minutes of us. We love having Sunday dinners with them and being able to see them at any time throughout the week at our house or theirs, especially in the summer months when we can all hang out by the pool! The remainder of my family is in the greater Detroit (Michigan) area and we love visiting them a few times a year! They are all so excited to welcome a little one into our family! 
JEREMIAH'S FAMILY: My family is kind of scattered around but mostly resides in the central Indiana area. My Dad is unfortunately no longer with us, but I feel like he is with us in spirit. My mom still lives in the area that I grew up in when I was a kid. After my dad passed away, my mom and Kari became my two guiding lights to help me navigate through life, for which I will always be grateful. My mom is so excited that we are adopting and hopes to come and visit as much as she can through our child's life!
IN OUR FAMILY: we love music // we enjoy sharing experiences together // laughter fills the air // we are always honest.
our dreams
We dream for this child to have a childhood filled with love, laughter, and learning. We dream of a fun, joyous childhood full of those little everyday family moments that will last a lifetime like dyeing Easter eggs, carving pumpkins, baking cookies, and having hot chocolate with mini marshmallows on cold, Ohio winter days together. We also dream of giving our child unconditional love and support through life's challenges while teaching them to be humble, courteous, and respectful to all. We hope to live as examples for them to help them create a life they are proud of as they come into adulthood and feel the love and support always from all those a part of their life story.
We are committed to teaching our child about their adoption story as they grow as well as incorporating any traditions, foods, etc. that may be passed down or shared by their birth family into our home life.